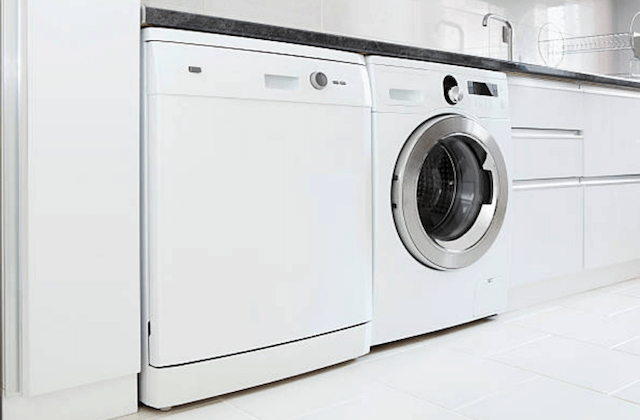 PROFESSIONAL REPAIRMEN ON-CALL:
(609) 546-4094
A broken dryer or washing machine will need to be returned into good state and will need repair from experts in the repair field. The technicians at Tru Trenton Appliance Repair are readily available to offer you these services.
We have all the necessities to complete a successful repair of your washer and/or dryer. We use parts of brands such as Carrier, Goodman, RCA, GE, Lennox, Bryant, Kenmore, LG, Armstrong and Sears. All our repairs are carried out on the initial day of our appointments.
WASHER PROBLEMS
LOUD/CONSISTENT NOISES
Loud noise is a problem that is common to a washing machine. We can scrutinize your washing machine to determine the root cause of this problem and know whether these parts will need repair or replacement. Nevertheless, the most common cause of loud noise in a washer is a broken pump motor or bearings or worn belts.
WON'T TURN AGITATE
It's obvious that a washer needs to be plugged in well and all circuit breakers put in good state for the washer to turn on. Nonetheless, there are some issues that may lead to a washing machine failing to turn on or agitate. Firstly, your washer may fail to agitate because the drive belt, agitator cogs, transmission or coupler are worn out and need to be replaced. On the other hand, your washer may fail to turn on as a result of a broken timer, thermal fuse or door latch.
WON'T SPIN
This problem in most cases results from the door latch, wax motor or motor coupling. All these are simple issues that can be managed within a short period of time.
CONTINUE READING: WHY WON'T YOUR WASHER SPIN?
OVERFLOWS
For a washer that is overflowing with water, check if the water inlet valve, the air dome tube or the water level switch is broken. These are the parts known to cause overflowing especially when they have broken down.
NO HOT/COLD WATER
The reason behind a washer that is not producing cold or hot water is a broken inlet hose or a broken temperature control switch.
DRYER PROBLEMS
LOUD/CONSTANT NOISES
For dryers, loud and constant noises are the most common problems that we have repaired over a long period of time. They are caused by broken seals, bearings or worn belts.
NO HEAT/WON'T DRY
A dryer becomes useless if it cannot dry clothes. However, this does not mean you need to throw it away. All you need to do is to check the root cause of this problem. Mostly, it is brought about by the high limit thermostat or cycling thermostat or a broken heating element.
WON'T TURN ON/TUMBLE
Apart from failing to connect your dryer properly and checking if all the circuit breaks are on, there are other reasons behind a dryer failing to turn on. These problems are often related to a high limit thermostat, cycling thermostat or the heating element. All these parts need to be repaired or replaced with new ones.
WON'T TURN OFF
A broken door switch or timer is the main cause for a dryer failing to turn off. We have all the answers to this problem. Don't worry!
TIMER WON'T ADVANCE
The timer in a dryer plays a huge role. It must advance for the dryer to finish a single cycle. If it does not advance, it means that the cycling thermostat or timer motor is broken. When you discover this problem, call us!
ADDITIONAL SERVICE INFORMATION:
www.trentonappliancerepair.com