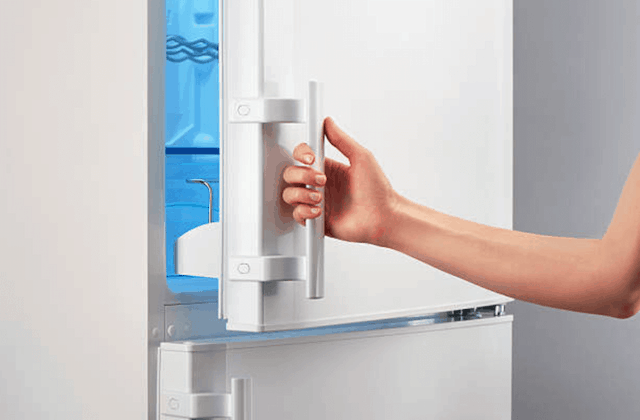 PROFESSIONAL REPAIRMEN ON-CALL:
(609) 546-4094
Homeowners and families depend on their refrigerator to store our food. For this reason, it is always important to respond to a refrigerator problem as fast as possible. This is because we wouldn't want you to run into losses due to spoiled food. Tru Trenton Appliance Repair is the right place to come to when you have issues with your refrigerator.
REFRIGERATOR PROBLEMS
LOUD/CONSTANT NOISES
Refrigerators face loud noise related problems often. This problem majorly originates from the condenser fan motor or the evaporator fan motor inside the freezer. We will repair these issues as long as you contact us. Try to spot where the noise is coming from before giving us a call. Through this, we will be able to know the right tools to carry to your home.
WATER LEAKS
These problems come up when either there is a broken water inlet valve or the door latch or closure is having issues. We fix these problems too at Trenton Appliance Repair Company, thus, we will sort out these problems in no time during our visit.
WON'T START
When your refrigerator is well connected, you will it will rarely fail to turn on. However, if all the connections are done correctly and the refrigerator still fails to turn on it indicates that there is a problem. Either the temperature control has malfunctioned or the compressor overload relay has broken.
ICE MAKER WON'T MAKE ICE
We also fix problems related to ice makers. The most common ice maker issues are temperature control in the freezer, broken water fill tubes or broken water inlet valve. Also, when ice makers are working slowly, they may end up producing smelly ice cubes.
FRIDGE TOO COLD/ TOO HOT
It is normal for a broken refrigerator to face temperature issues. It will either be too warm or too cold and this is good for the refrigerator. The refrigerator becomes too warm when the air inlet damper is broken. On the other hand, the refrigerator becomes too cold if the thermostat or temperature control has issues. We take care of all major brands and models of refrigerators and fridges.
BROKEN WATER DISPENSER
The water dispenser of your refrigerator may fail to work properly if the dispenser actuators or the water inlet valve has broken down. Although a water dispenser rarely has issues, we receive calls from some of our customers for their repair. We have all the manufacture parts that are used in the water dispenser repair. We repair tools for brands such as the Sub-zero brand, Kenmore, Whirlpool, GE and Sears among other brands.
DOOR LATCH/BULB PROBLEMS
When the door latch or closure of your fridge breaks down, you will definitely experience leaks and condensation problems. We can fix hinges, seals and gaskets to ensure that your refrigerator door opens and closes correctly. With a door latch that is broken, your refrigerator may also experience temperature loss leading to food spoilage. Additionally, we repair or replace bulbs that have broken down in a refrigerator or freezer.